CSBA releases "Guide to School Closures in 2021–22"
Severe staffing shortages may qualify an LEA to close schools
The state of California has emphasized that keeping students in the classroom is a priority for the 2021–22 academic year. Assembly Bill 130 and the follow up AB 167 established independent study requirements and school closure procedures for local educational agencies to meet the goal of uninterrupted in-person instruction. Unfortunately, the process laid out in AB 130 has proven confusing in practical application.
High absentee rates among students and staff result in a loss of instructional days, which, in turn, can affect apportionment and funding. Typically, when an emergency condition causes a school closure, reduction in attendance, or change in schedule preventing an LEA from complying with the minimum number of instructional days or minutes required by law, the LEA can use the J-13A waiver process to obtain approval of apportionment credit. During the normal waiver process, LEAs complete necessary paperwork after the fact so that they can properly document the circumstances and the number of instructional days missed. However, under AB 167, there are additional requirements to receive credit for emergency apportionment including additional steps required prior to closing any schools.
The PROUD Academy, which stands for "Powerful, Resilient, Outstanding, Unique and Determined," was created to close achievement gaps in the district after the development of an educational equity board policy.
Latino student participation, success in college can be improved with supports
High schools can help by making A-G coursework a requirement for graduation
While Latino students make up 55 percent of K-12 students in California, only 43 percent of public higher education students in the state are Latino, according to "2021 State of Higher Education for Latinx Californians," a report from the Campaign for College Opportunity.
Ensuring that Latino students, California's largest ethnic group, have equitable educational opportunities is an important step in providing them access to a bright future and in helping the Golden State's economy thrive. The job market is becoming more demanding and possessing a degree is increasingly valuable, according to the report.
California is making progress, as a historic number of Latino students are graduating from high school and enrolling in higher education. This is welcome news, though the data shows that there is room for improvement. The organization found that barriers to college access often include high schools that don't properly prepare enough Latino students to continue their academic careers.
President:
Dr. Susan Heredia | Natomas USD
President-elect:
Susan Markarian | Pacific Union ESD
Vice President:
Albert Gonzalez | Santa Clara USD
Immediate Past President:
Xilonin Cruz-Gonzalez | Azusa USD
CEO & Executive Director:
Vernon M. Billy
The California School Boards Association is the essential voice for public education. We inspire our members to be knowledgeable leaders, extraordinary governance practitioners and ardent advocates for all students.
California School News (ISSN 1091-1715) is published 11 times per year by the California School Boards Association, Inc., 3251 Beacon Blvd., West Sacramento, CA 95691. 916-371-4691. $4 of CSBA annual membership dues is for the subscription to California School News. The subscription rate for each CSBA nonmember is $35. Periodicals postage paid at West Sacramento, CA and at additional mailing office. POSTMASTER: Send address changes to California School News, 3251 Beacon Blvd., West Sacramento, CA 95691.
News and feature items submitted for publication are edited for style and space as necessary.
President's Message: Dr. Susan Heredia
Returning to something better than normal
When in-person instruction resumed statewide, much of the conversation centered on a "return to normalcy." It was a huge relief to welcome students back to campus and see the type of engagement that best facilitates high-quality teaching and learning. Yet, as refreshing as this year has been in some respects, it's a far cry from normal.
The pandemic has required departures from the regular school routine and left students, staff, parents and governance boards scrambling to contain its impact. The results have been decidedly mixed. There have been demonstrations of great resolve as trustees and school staff have worked to keep schools open and operational despite mounting challenges. Those efforts have resulted in increased opportunities for students to learn, to develop and to simply experience joy at school.
Yet, many students have struggled both during the period of school closure and in the early stages of our return to on-campus instruction. Sadly — and perhaps predictably — the children who have suffered the most are overwhelmingly members of traditionally underserved student groups. The trials of the last two years have exacerbated longstanding disparities in California's schools as well as those across the country.
March 15 layoff notices: What boards should know
2022 is the first year the notice applies to classified employees
As a member of a school board governance team, few situations are more sensitive than a district delivering March 15 layoff notices. The March 15 notice is a formal, written announcement from a school district to employees informing them that they may be released for the following school year beginning July 1. It is essential for governing board members to be familiar with information about the March 15 notice, its implementation process and the strict legal requirements attached to the process.
Permanent classified employees need March 15 layoff notices to be laid off
Prior to this year, classified employees could be laid off at any time during the school year with at least 60 days' notice, due to lack of work or lack of funds. Effective Jan. 1, 2022, Assembly Bill 438 modified the Education Code's classified layoff statutes, creating additional protections for classified employees and changing how school districts must conduct classified layoffs.
State and federal quarantine and testing guidelines shift yet again
New executive order provides additional flexibilities for school staffing shortages
The California Department of Public Health on Jan. 12 updated its
COVID-19 Public Health Guidance for K-12 Schools
to include new quarantine recommendations and introduce a group contact tracing approach that can be used by local educational agencies.
Student close contacts who have completed the primary series of COVID-19 vaccines or were previously infected with (laboratory confirmed) SARS-CoV-2 within the last 90 days should NOT quarantine if they do not have symptoms.
Student close contacts who have not completed the primary series of COVID-19 vaccines nor were previously infected with (laboratory confirmed) SARS-CoV-2 within the last 90 days may undergo a modified quarantine when both parties were wearing a mask, as required in K-12 indoor settings, and may continue to attend school if they:
are asymptomatic;
continue to appropriately mask, as required;
Budget season gears up as Legislature works its way through the Governor's proposal
Addressing declining enrollment and funding the LCFF base are among CSBA's advocacy priorities
While both houses of the Legislature released their budget priorities in the final weeks of 2021, the 2022 budget season officially began with the release of Gov. Gavin Newsom's initial budget proposal on Jan. 10.
The Governor's plan proposes $119 billion in funding for all TK-12 programs, with the Proposition 98 guarantee increasing to $102 billion. Included in those figures is a statutorily required 5.33 percent cost-of-living adjustment (COLA) for the Local Control Funding Formula, some categorical programs outside of LCFF and for county offices of education.
Among the many education provisions in the proposed budget plan, one of the most significant is protections for LEAs experiencing declining enrollment. The plan would change how the LCFF apportionment is calculated to consider the greater of a school district's current year, prior year or the average of three prior years' average daily attendance, for an ongoing cost of $1.2 billion Proposition 98 General Funds.
Learning self-efficacy, improving outcomes for African American students in Bakersfield
This Black History Month, CSBA spotlights programs helping to close opportunity and achievement gaps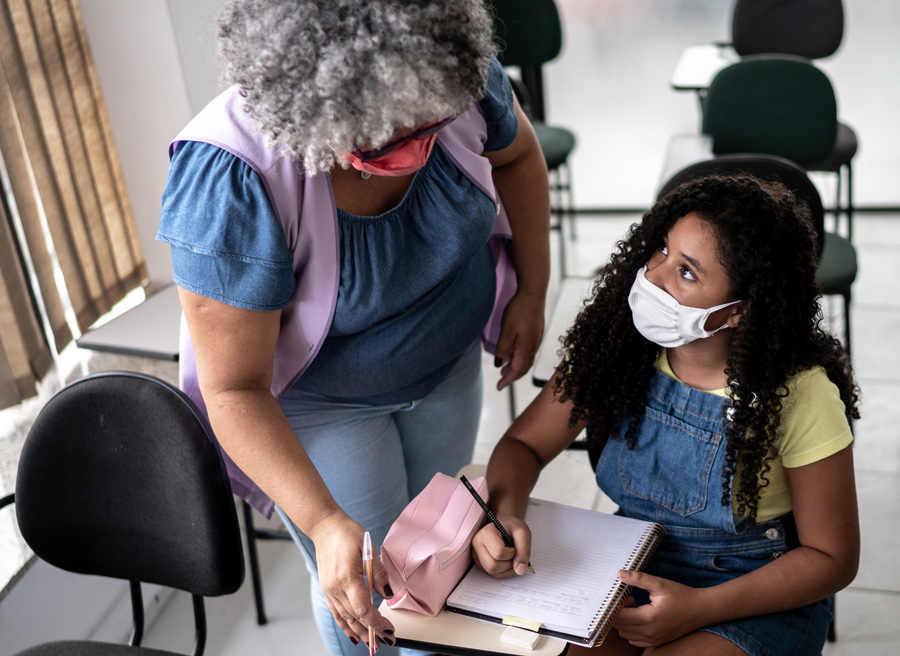 In Bakersfield City School District, a program for African American students is empowering young people to challenge common notions and media portrayals of what it is to be a Black youth today. The PROUD Academy, which stands for "Powerful, Resilient, Outstanding, Unique and Determined," was created during the 2017–18 school year. The work began with a committee focused on closing achievement gaps in the district and the development of an educational equity board policy.
"In 2018, the Bakersfield City School District took direct action to develop an Educational Equity Board Policy to identify and address all disparities in educational outcomes for the purpose of targeting areas for action, intervention and investment for disadvantaged students," said BCSD Superintendent Mark Luque. "The PROUD Academy reflects the purpose and intent of the policy through intentional and direct access to programs and services for African American students. These intentional and direct actions provide students a launching point to engage and succeed in educational opportunities that were not previously available to them. Through these supports, students are engaged, motivated and supported to reach academic success."
State Board approves student assessment report revisions, community schools framework
Board says goodbye to four veteran members
In a packed one-day meeting on Jan. 12, the State Board of Education approved several revisions to the California Assessment of Student Performance and Progress and English Language Proficiency Assessments for California student score reports, as well as a California Community Schools Partnership Program Framework and more.
The meeting was also the last for long-time members Ting Sun, Patricia Rucker, Sue Burr and Vice President Ilene W. Straus. Their departure was met with heartfelt messages from former Gov. Jerry Brown, who had appointed all four, Board President Linda Darling-Hammond and others.
The implications of the California Department of Education's release of 2020–21 assessment data, which included student outcomes on the CAASPP and various other tests, were discussed. Just 25 percent of students took the 2020–21 state assessments, as many districts remained in distance learning until late spring 2020. However, the results of their locally administered tests that met specific criteria approved by the board generally show similar findings, according to a WestEd analysis.
Practical tips from our MIG faculty
Board member professional development in challenging times
Professional learning can help boards with COVID-induced stress through solid planning and goal setting.
March 2020 marked the earliest days of the global pandemic that brought unprecedented stress and strain to people from all walks of life and to systems of all types and sizes, including individual school board members and the collective governing boards on which they serve. So, why is it important in these continuingly challenging times that governance teams should keep the proverbial "foot on the gas" when it comes to participating in high-quality professional development?
Board members recognize their awesome responsibility: they have been entrusted by the voting public with their precious children and their hard-earned tax dollars. But trustees, although elected officials, find themselves no less susceptible than anyone else to COVID-induced stresses. Well-designed professional development, or PD, can help alleviate those stresses by tackling burnout issues head-on while at the same time reminding trustees of why they're committed to serving each and every student in their district or county office of education, and how they'll continue to serve students and schools.
CDE releases state assessment scores and other student data
How should board members interpret the data?
The California Department of Education released a highly anticipated student data set for the 2020 –21 school year that includes achievement scores from the California Assessment of Student Performance and Progress (CAASPP), graduation rates, suspension rates and chronic absentee data. This data is an early look at some of the impacts the pandemic has had on students. While graduation and absentee data raise concerns for many of California's historically underserved student groups, CAASPP scores are considerably constrained compared to typical years and important nuances must be considered.
Due to the educational challenges exacerbated by the pandemic, the U.S. Department of Education waived student testing requirements in 2019–20. However, federal testing requirements were reinstated in 2020–21, and the department granted states flexibility to accommodate local needs. This flexibility allowed districts to administer shortened versions of statewide assessments, offer remote administration of tests (when possible) and extend standard testing windows. School districts that could not administer CAASPP tests were required to administer local assessments that met specific criteria approved by the State Board of Education. If districts gave those local assessments, student scores were not included in the CAASPP data, but instead, are to be included in districts' School Accountability Report Cards.
Federal court reviews California's independent study program, access for students with disabilities
CSBA's Education Legal Alliance filed an amicus brief in support of LEAs statewide
At the start of the 2021–22 school year amid the COVID-19 pandemic, California's schools eagerly welcomed students back to the classroom, utilizing various mitigation measures to support in-person instruction. Many students in California spent significant portions of the 2020–21 academic year attending school remotely, and local educational agencies and the state government pushed for more in-person learning in the current school year. To promote on-campus learning in the 2021–22 school year, the state restricted the use of distance learning in the 2021 Education Trailer Bill, Assembly Bill 130. The new law did away with distance learning as it existed during the 2020– 21 school year and instead required LEAs to offer students the option of independent study.
Board meetings by teleconference during a proclaimed state of emergency
AB 361 allows flexibility in the Brown Act in emergency situations
While the use of teleconferencing for board meetings has historically been authorized by the Brown Act when specified requirements are met, more flexibility was initially given to districts and county offices of education through the Governor's Executive Order N-29-20 in March 2020.
"Public agencies struggled to conduct their meetings in compliance with the public accessibility and transparency requirements of the Brown Act and Bagley-Keene Acts while still abiding by stay-at-home orders," according to an Assembly Floor Analysis. "Given the temporary nature of the executive order, the pandemic's lasting impact, and the threat of other emergencies that may make in-person gatherings unsafe, a longer lasting solution seemed necessary."
Lessons learned on high-dosage tutoring
Webinar highlights strategies for student success
Long recognized as a tool to help accelerate learning, tutoring has emerged as a precedented solution to the unprecedented disruptions the COVID-19 pandemic has had on students' academic lives.
During the webinar, "Examining the Evidence: What We're Learning From the Field About Implementing High-Dosage Tutoring Programs," hosted by Education Week on Jan. 13, experts and district leaders discussed the elements of high-dosage tutoring, shared evidence-based characteristics of high-quality programs and gave a glimpse at ways local educational agencies from across the U.S. are implementing them.
County board members prepare to welcome student board members
CCBE advocated for direct jurisdiction student inclusion and time to develop policy and procedures
Assembly Bill 824 (Bennett, D-Ventura), which regulates the appointment of student school board members to county boards of education, became effective on Jan. 1, 2022. The bill was sponsored by the California Student Board Member Association.
As originally presented, AB 824 mirrored the language in AB 709 (2019), which applies to the appointment of student board members to local district boards. Early in the legislative process, county board members on the CSBA Legislative Committee engaged in the analysis of the bill and worked with CSBA Senior Legislative Advocate Carlos Machado to bring attention to the distinct responsibilities of county boards and the distinct needs of the students directly served by them.
Attend the 2022 CCBE County Board Governance Workshop
The County Board Governance Workshop is a two-day event on Friday, March 11, and Saturday, March 12, 2022 at the Embassy Suites by Hilton Sacramento Riverfront Promenade. The 2022 County Board Governance Workshop will focus on empowering county board members to serve in challenging times. County board members and superintendents alike can expect to gain in-depth county-focused learning opportunities on community engagement; elections; appointments and redistricting; learning loss and innovative ways to re-engage students. Visit the CCBE website at http://theccbe.org to register today.
Upcoming
Events
info: 800-266-3382
Feb. 18–19
MIG Course 1: Foundations of Effective Governance
Feb. 19
Board Presidents Workshop
Feb. 23
Board Presidents Workshop
March 2-3
MIG Course 1: Foundations of Effective Governance/Setting Direction
March 11–12
2022 CCBE County Board Governance Workshop | Sacramento
July 22–23
2022 Leadership Institute | Los Angeles